This buttery benne brittle candy is filled with toasted benne seeds (sesame) and is made right in your microwave in less than 10 minutes!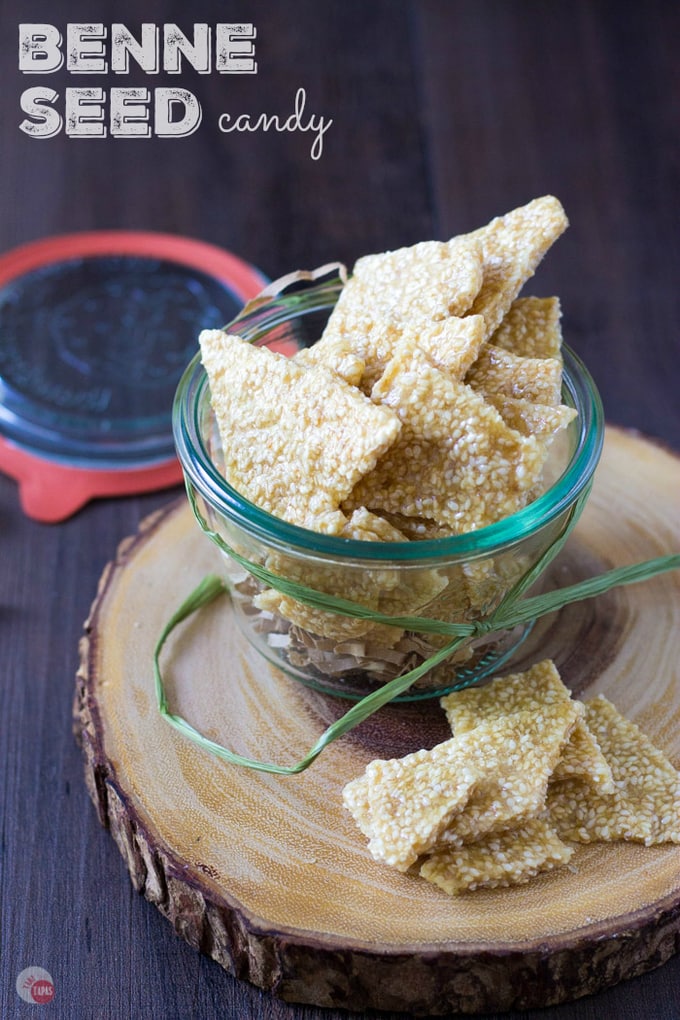 Turn brittle candy on it's head and add benne seeds (or sesame seeds) instead.  Let me tell you a story about who created this recipe.  Virginia M. Curry (My Ma) was an amazing, funny, and unbelievably strong woman who bent over backwards to help those who needed it.  Most importantly, she taught me not to put up with anyone's nonsense, not only because it was a waste of your valuable time but because you didn't have to.  Believe me when I say that in her 75 years, she never did!
I have many memories of my Ma, but this one, by far, is my favorite because it touches on this very trait.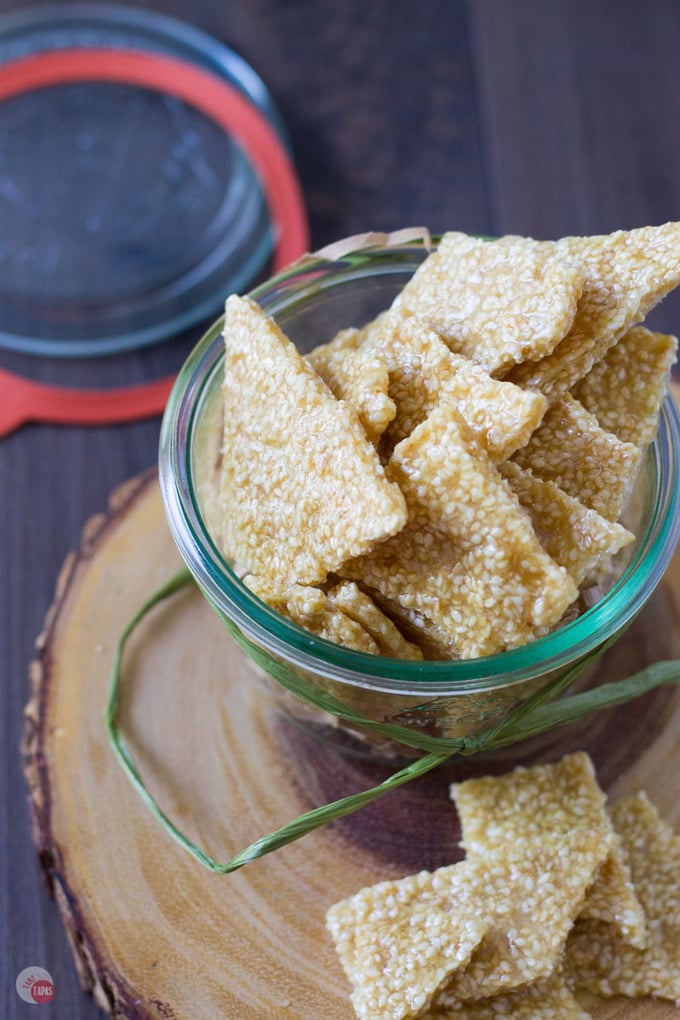 One day while I was staying with my Ma and Pa, she and I ran to the grocery store together to get our ingredients for dinner.  While Ma parked at the back of the lot to leave the closer spaces for those who needed them, a driver had pulled up to the front of the store, parked in the fire lane, and went inside to shop.  Huge pet peeve of mine aside from hanging the toilet paper roll backward on the holder.
Upon witnessing this act, she turned to me and asked me if I thought parking in that spot was an acceptable thing to do.  Being that I was young, I said something silly like a fire truck might hit him.  She agreed in that respect, but then said that it was just rude and inconsiderate and that is why it's wrong.  Why should he get to park up front and the rest of us had to park in a parking space?
Ma proceeded to take out her lipstick (which was a bright red) and write on the windshield of the car in big letters "NO PARKING IN FIRE LANE!"  She tucked it back in her purse and we went inside to get our items, like nothing happened.
While we were shopping, I kept imagining whose car it was and what they were going to do when they walked out and the bright letters.  I also watched her to see how she handled it because I would have been afraid that someone would have seen me and told the store manager.  She acted like it was any other day, we finished our shopping and left the store.  The car was no longer there when we exited, and I breathed a small sigh of relief.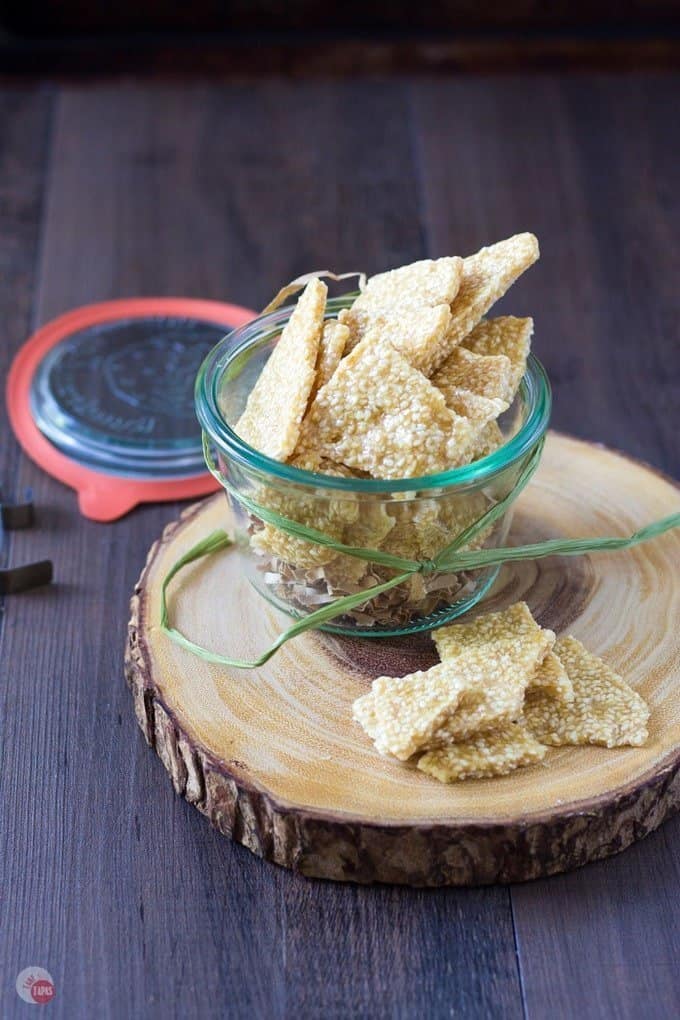 When we made it back home, I asked her why she used her good lipstick and didn't opt to leave a note instead.  She said the lesson would sink in better if they had to wash all the greasy lipstick off their window, with an added bonus if they tried to use their windshield wipers to get it off.  Plus people like that would probably just throw a note on the ground and it would then be littering.
Of all the memories I have of Ma, that is one of my favorite because it has many lessons all wrapped into one encounter.  I miss her everyday and more so now that it's coming into the holiday season and I am again dreaming of her benne seed candy!  I have decided to share this recipe since she can no longer share herself with the world.  Think of Ma, and her lipstick, when you eat it!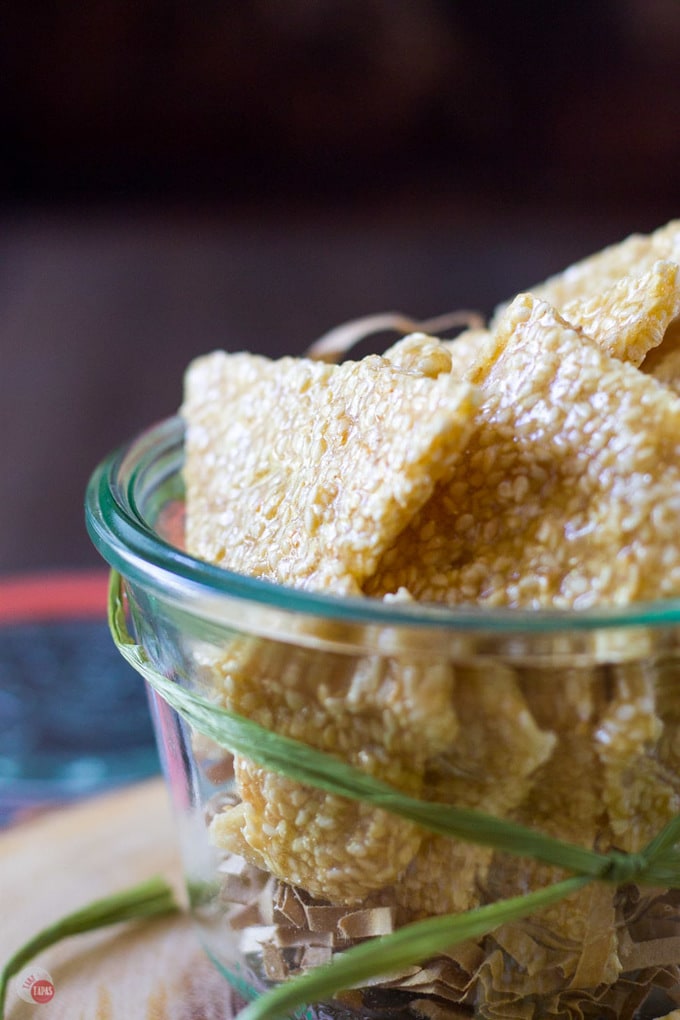 Ingredients
1/2 cup Karo Light Corn Syrup
1 cup sugar
1 cup Benne (sesame) seeds, toasted
1 teaspoon vanilla
1 teaspoon salt
11/2 teaspoons butter
1 teaspoon baking soda
Instructions
In a dry pan, add your benne seeds and toast on low for about 6 minutes or until fragrant and just starting to turn brown.
Watch carefully as they burn very easily!
I try to toast all the seeds I have on hand to save time for the next batch.
Toasting all your seeds and nuts at one time makes a great shortcut for your future recipes!
Line a baking sheet pan with a silicone baking sheet or a sheet of parchment paper sprayed with non-stick spray.
In a large 6-8 cup microwave-safe, glass bowl, add the sugar and Karo corn syrup.
Stir to combine and microwave on high for 2 1/2 minutes.
Pull out (will be hot) and stir in the toasted benne seeds.
Mix and microwave on high for another 2 1/2 minutes.
Take out of microwave and add salt, vanilla, and butter.
Stir and microwave a third time for 1 1/2 minutes.
Quickly after removing, stir in baking soda.
Immediately, because it will start to harden quickly, pour on prepared pan and spread out best you can.
I use a spatula or cake decorating off set spatula sprayed with non-stick spray.
Candy will harden in about 10 minutes.
When cool, break into bite sized pieces and place in air-tight container.
http://taketwotapas.com/benne-candy-microwave-sesame-seed-brittle/
*A humid, rainy day is not the best day to make this as the candy will stay tacky upon drying.  Wait for a dry day!
*Microwave times may vary.  If unsure, remove 30 seconds from each one.  I have a fairly new microwave (1.5kW) and these worked for me.
Here are some of the tools I used to make this recipe:


This post contains affiliate links.  I may earn a small commission for my endorsement, recommendation, testimonial, and/or link to any products or services from this website. Your purchase helps support this blog and allows me to continue to bring you delicious recipes.
If you like this candy recipe check out these other sweet treats!