The addition of coffee to a traditional golden milk latte is a new twist on your favorite morning drink.  Full of turmeric and healthy coconut milk it will help you get off to a great start in a new way!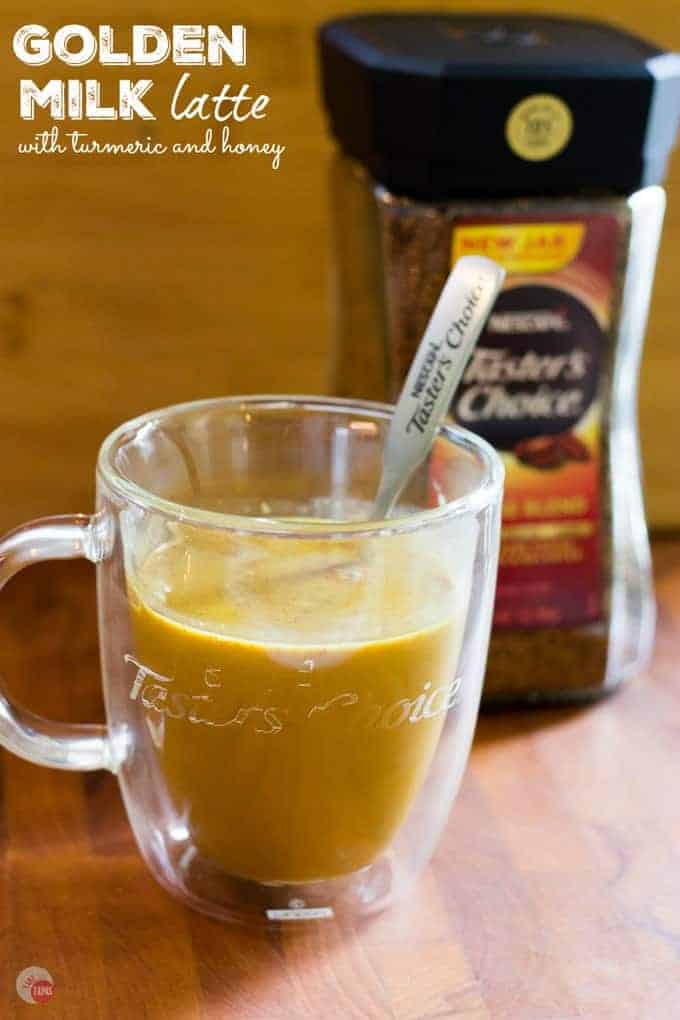 Ever wonder what a food blogger does behind the scenes?  Here is a tiny look at my day.  Hint, it involves lots of coffee cups.  What is missing from the picture below?  This is an overhead view of my workspace.  Notice anything on the white plate?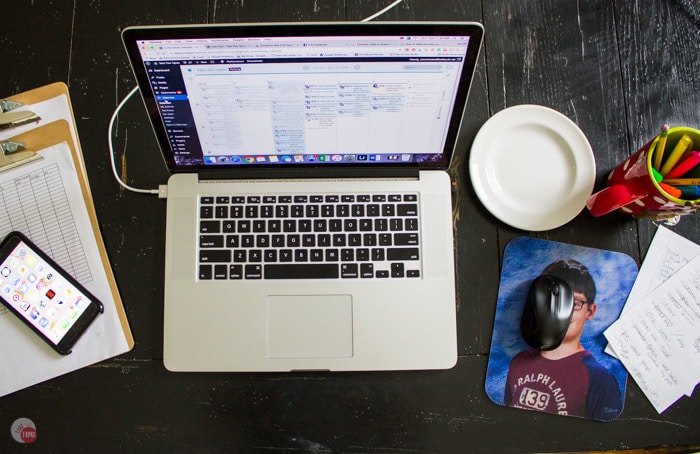 That's right it's empty!!!  I can't do anything in the morning without a cup of coffee or tea.  I need caffeine and this is the fastest way to get it into my body.  Depending on the morning and what I have to accomplish that day, the levels of caffeine that I require varies.  I gave up sugar in  my coffee and tea a few years ago so mine beverages are usually strong.
I recently started drinking Golden Milk at night which is a warm mixture of milk (I use coconut), turmeric, and other spices. It is simmered and then honey is added to it at the end.  Typically this is made as a night time beverage to help with Insomnia and inflammation.  I have found that it helps me get to sleep faster, which is a good thing as I have a lot to do the next day!  I enjoy the flavors of the golden milk and was curious to try it with my morning coffee and see how it helps me #CraftMyDay.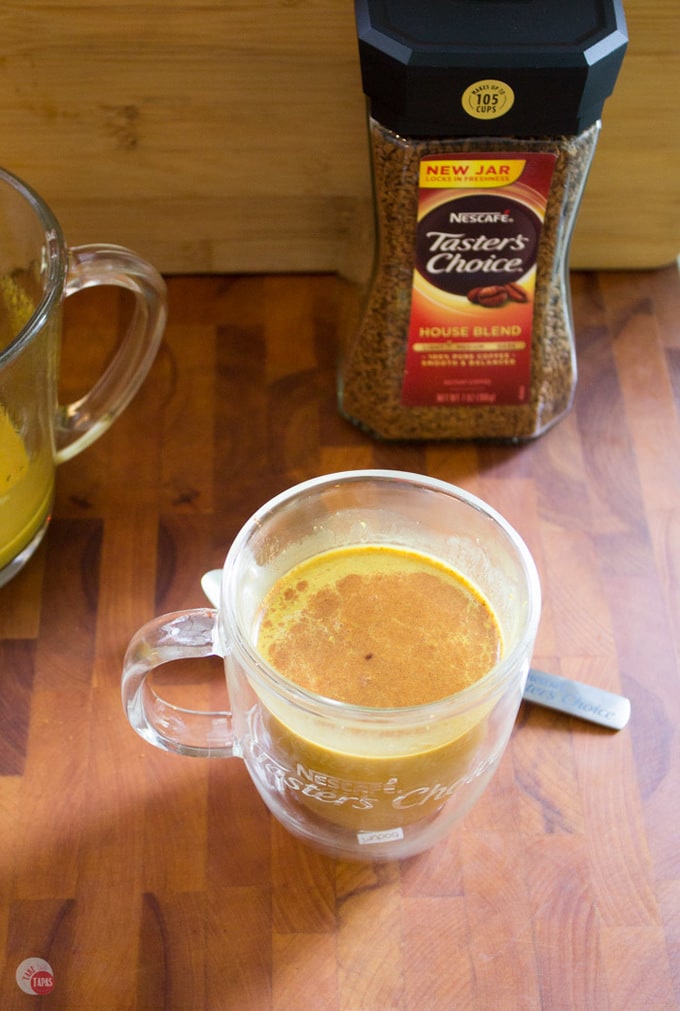 As a food blogger, I wear many hats.  I am a recipe developer, food stylist, food photographer, writer, and social media manager.  That is a lot of hats to add to my existing mom and wife hats.  I have learned that organization is the key to success.  I have many to-do lists for each of the projects that I am currently working on, clipboards with ideas for future projects, and an editorial calendar on my computer for my blog.  This calendar juggles all my posts and social media messages.  That is a lot to look at so it's no wonder I need coffee!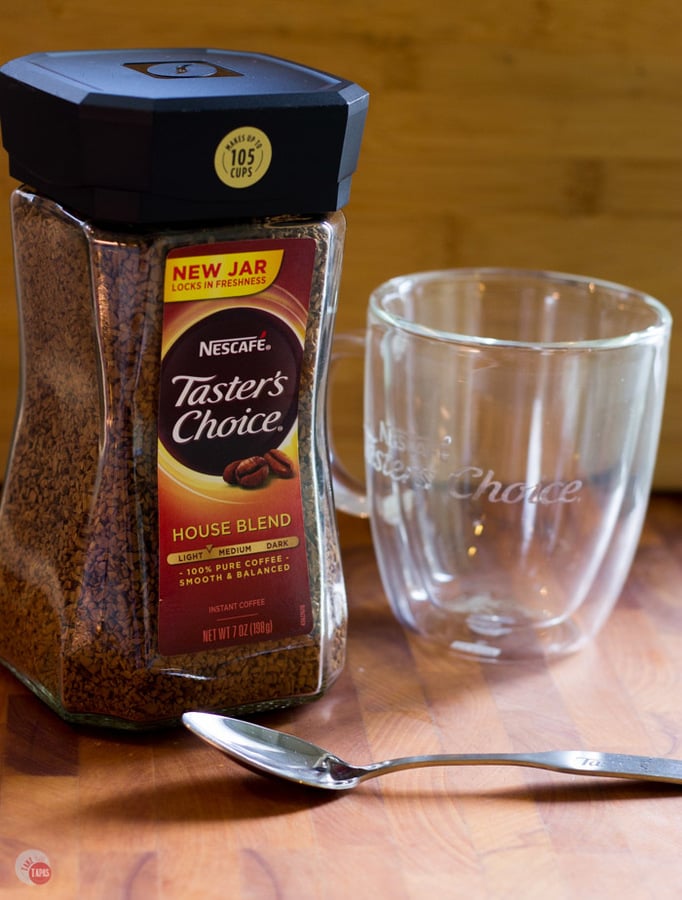 Not to mention the three, yes three, planners that I have. One for the kids and husband that contains eye appointments and practices along with blocks of time for my "office hours."   I have one that is for my blog recipe calendar so I can jot things down, like ideas for recipes and tweets, that I carry too.  You never know when you will get inspired and need to take notes.  If I tried to remember everything, I would remember nothing. Working a part time job outside of blogging and mommy-ing also requires some juggling so I make sure that I add those days in too.
My third planner is a generic calendar that I keep on hand in case I forget the other two!  Got to have a backup.  I keep this tiny one in my purse for when I leave one or both of the other two in the car or on the dining room table.  Which is currently my work space because the hubby took the office desk. The upside is that I feel more creative at the table where I also eat meals.
Ingredients
For the Golden Milk

2 cups milk (I use coconut or almond)
1 teaspoon turmeric
1/2 teaspoon cinnamon
1/2 teaspoon ginger
1/4 cup honey

for 1 latte

1 cup of Golden Milk
1 heaping teaspoons NESCAFÉ® Taster's Choice®
Instructions
In a saucepan, heat the milk, ginger, cinnamon, and turmeric.
Bring to a slight boil and then reduce temperature and simmer for 3 minutes.
Strain into a glass measuring cup and add the honey.
Stir to combine.
To make your latte, add a heaping teaspoon of NESCAFÉ® Taster's Choice® instant coffee to a mug.
Pour in 1 cup of Golden Milk.
Stir to combine.
Enjoy!!
http://taketwotapas.com/coffee-golden-milk-turmeric-latte/
What fuels my day of writing posts, cooking, styling a shoot to grab the light just right, and still taking care of my boys?  Lots of coffee.  Thanks so much to NESCAFÉ® Taster's Choice® for making a new 7oz jar that seals in freshness, helps me keep a lot of coffee on hand, and helps me craft each day so my passion for food shines through!
I'm giving away ten 1.7oz NESCAFÉ® Taster's Choice® House Blend sample jars to my readers!  Just comment below on how NESCAFÉ Taster's Choice helps you craft your day so your passion shines through!