Forget the store-bought seasoning mix full of preservatives and anti-caking additives, make your own Italian Seasoning Mix at home with spices from your cabinet!
The other day I was making my mom's famous garlic knots and I started digging through my spice cabinet to find some Italian Seasoning.  I use it quite a bit, so I had to look in my secondary spice cabinet/closet.  You know the one I'm talking about.  The one that houses the 55-gallon drums of spices that you get when you shop at Costco, along with your 50lb cheese wheel and the 120 roll case of toilet paper that you won't need after you eat all the cheese.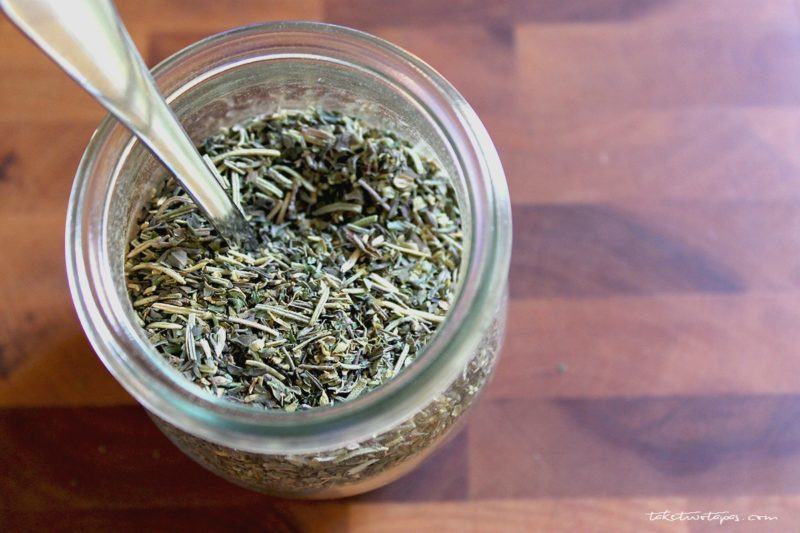 Well, I thought I had some in my cabinet because I remember actually buying one, but couldn't find it. I did find all 7 bottles of soy sauce that I had…  So, what do you do when you don't have a spice mix?  Make your own.
 I did have all that individual components of the mix so I got to making it.  Some recipes contain garlic powder, or salt and pepper, or red pepper flakes, but those have such a subjective taste that I tend to leave those out because not everyone would use or like them.  Especially in the quantities that I would use them in.  Plus, the recipe that I needed it for already contains an obscene amount of garlic.  It really doesn't need those extra grains of garlic powder.
Making your own spice mix is easy and will save you money in the long run because most home cooks have all the individual ingredients in their spice closets anyway.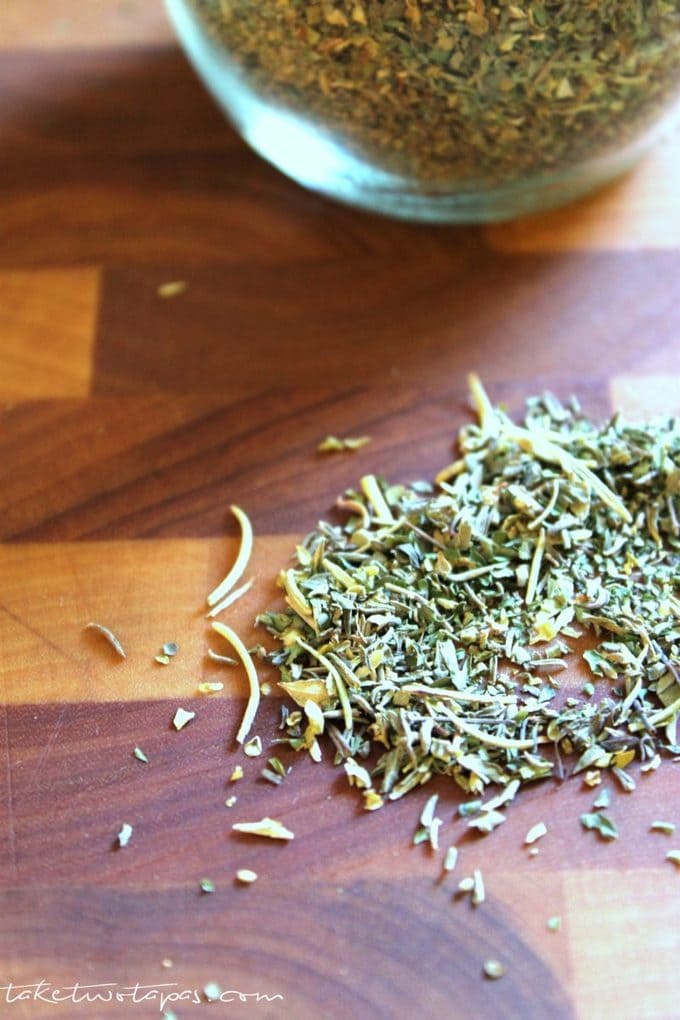 Here is my go-to recipe for Homemade Italian Seasoning Mix.
Jennifer Stewart - Take Two Tapas
Yields 6
Homemade Italian Seasoning Mix
Make your own Italian Seasoning Mix and save money with ingredients that you probably already have in your spice cabinet!
5 minPrep Time
5 minTotal Time
Ingredients
1/2 tablespoon Rosemary
1 tablespoon Dried Parsley
2 tablespoons Oregano
1 tablespoon Basil
1 tablespoon Thyme
1/2 tablespoon Marjoram
Instructions
Mix all together and store in an airtight container away from the light.
When ready to use, measure out desired amount and crush a little in your hand. This brings out the oils in the spices and enhances their flavors!
http://taketwotapas.com/homemade-italian-seasoning-mix/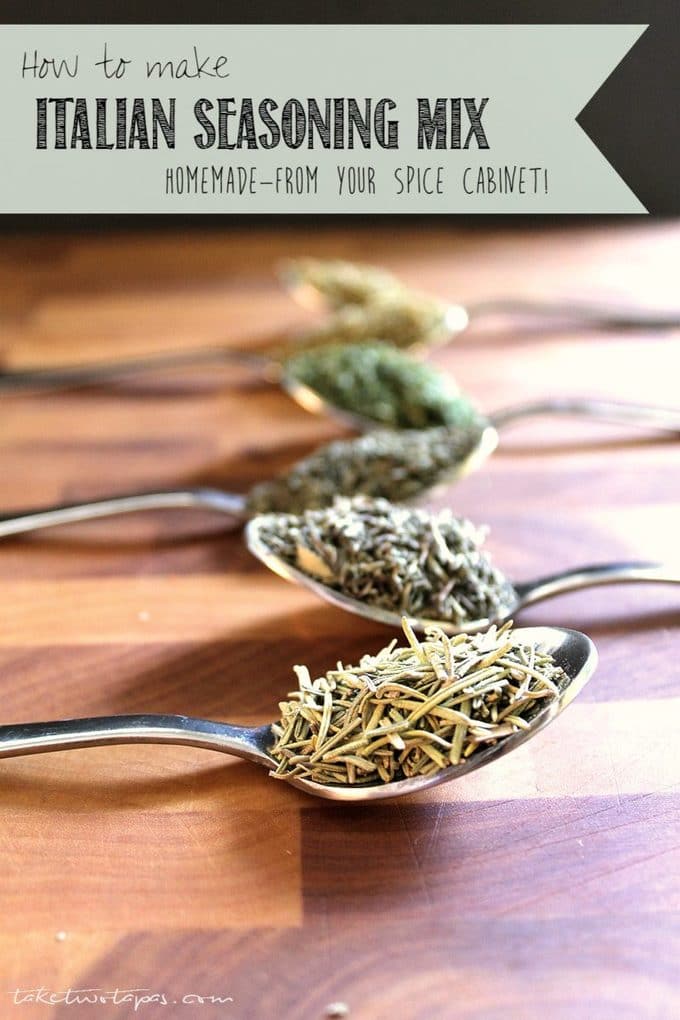 If you like this recipe, try these other homemade spice mixes: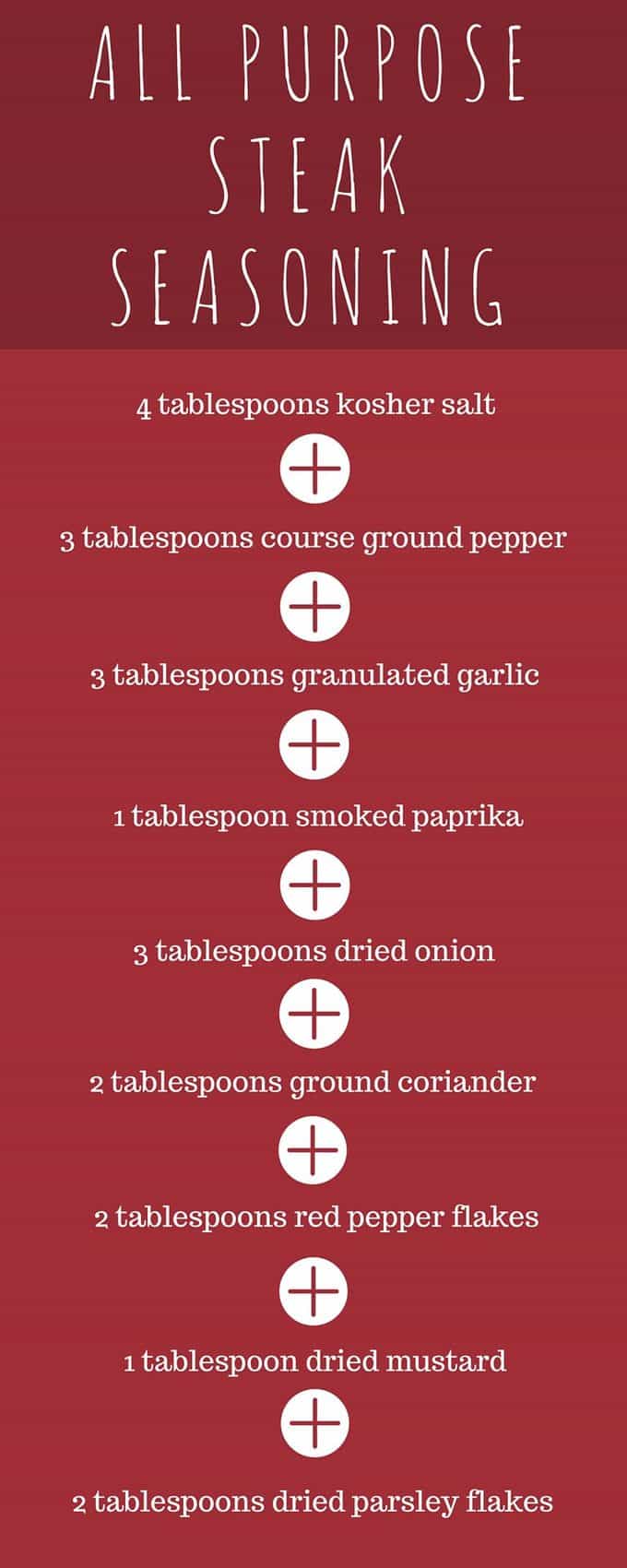 All Purpose Steak Seasoning Blend