Your favorite pepperoni pizza is now nachos!  Tangy sauce drizzled on crispy dough crust chips, topped with pepperoni and melted cheese.  Share with your friends.  That is if you want to share…

 When Brooks is away on a Tuesday, it is pizza night in the Stewart household.  Braxton and Connor used to be strictly cheese only.  While away, Braxton tried pepperoni for the first time and decided that it was his new topping of choice.  As the older brother does, so does the younger brother follow.  Connor now eats pepperoni only.  They think that cheese is terrible, even though that is what is on their pepperoni pizza only without the pepperoni!  Kids…  They drive me crazy some days and then they flash their cute dimples I am mush.

I was thinking of them when I started thinking about nacho recipes that I wanted to share.  Pepperoni pizza but in an easier method to share.  Don't want a whole slice?  Grab a few pieces of these nachos!

I didn't want to just take tortilla chips and put cheese and pepperoni on them.  Seemed like a cop-out.  Besides, corn tortilla chips might be a little strange with tomato sauce and cheese.  What can I use for chips? The very thing that makes it great.  Crust!  It is all about the crust.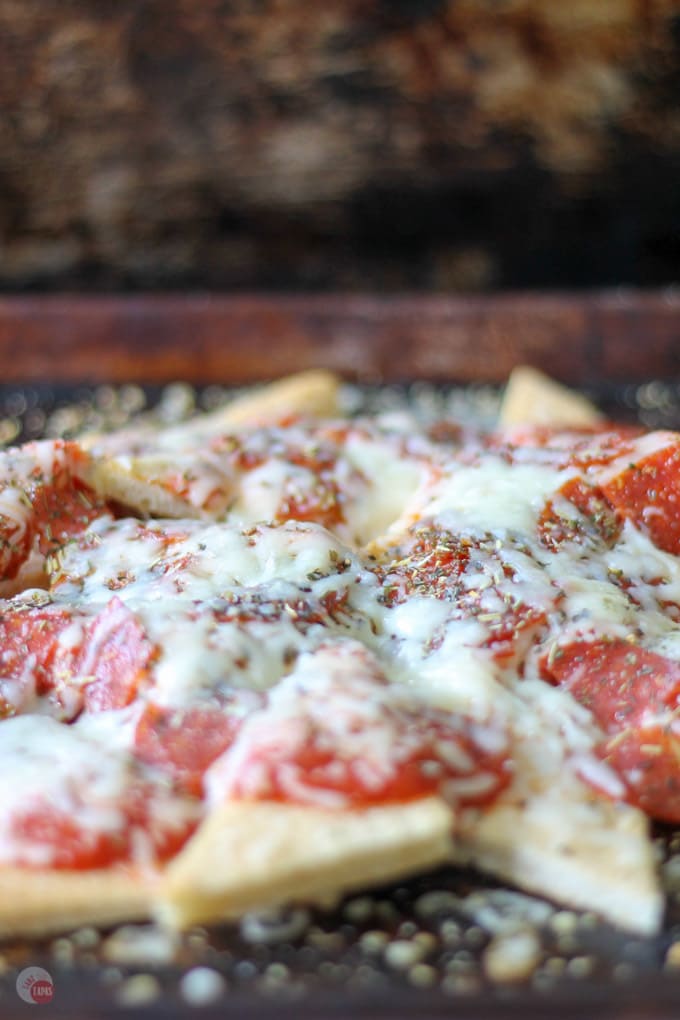 For some, deep dish is the way to go, but I am a thin crust girl.  These chips are made from dough rolled out to a medium thickness.  If you want to go thinner you can, but the melty cheese might cause them to break a bit.  Having these toppings on crust chips is really like eating a tiny personalized pizza!

Jennifer Stewart - Take Two Tapas
Yields 1
Pizza Nachos with Pizza Crust Chips
Your favorite pepperoni pizza is now nachos! Tangy pizza sauce drizzled on crispy pizza dough crust chips, topped with pepperoni and melted cheese.
10 minPrep Time
10 minCook Time
20 minTotal Time
Ingredients
Pizza Crust Chips:
1 recipe for pizza dough
1 tablespoon olive oil
1 teaspoon salt
1 tablespoon Italian Seasoning Mix
Pizza Nachos:
3/4 cup Marinara or Pizza Sauce
12 slices of pepperoni
1 teaspoon crushed red pepper flakes
1 1/2 cup mozzarella cheese, shredded
Instructions
Preheat oven to 350F.
Roll out pizza dough until thin.
Brush with olive oil and salt.
Bake as directed or until cooked.
Remove from oven and slice into chip-sized wedges.
Let cool for 5 minutes.
Lay chips out on baking sheet (use the same one so you don't have more dishes)
Drizzle or spread the sauce over the chips.
Place pepperoni on the sauce and chips.
Cover with cheese, crushed red pepper, and Italian Seasoning Mix .
Bake at 350F for 5 minutes.
Serve to your hungry guests!
http://taketwotapas.com/pizza-nachos-pizza-crust-chips/
Grab some of your friends, or sneak away by yourself and make some pizza nachos.  Maybe they can be your new choice when the kids want a pizza night!
What toppings do you like on your nachos?  Make your favorite pizza into nachos and send me a picture on social media with the hashtag #tapaspizzanachos so I can see your creations!
If you want another twist on nachos, check out my Gyro Nachos and have your favorite unpronounceable sandwich on pita chips.