These super easy Cinnamon Stars are made from won ton wrappers and tossed in a cinnamon sugar mixture to add a touch of sweetness!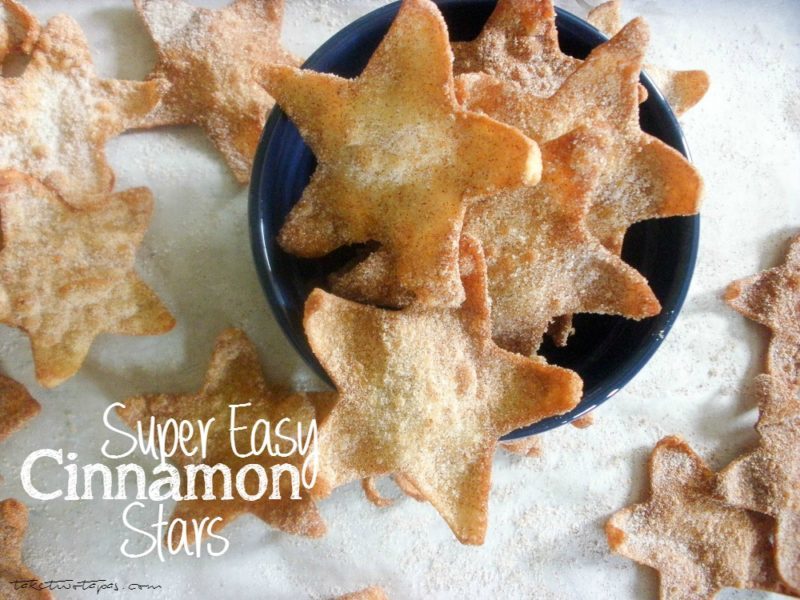 I know that it has been more than a month since Cinco De Mayo, but I think this cinnamon recipe is great for a summer treat so I wanted to post it.  This recipe is something I used to make with my mom and now I make it when I have taco night at church.
On the way to cook family night dinner at church for my annual Cinco De Mayo themed Wednesday dinner, this was the conversation that I had with one of my sous chefs (members of the National Elementary Honor Society doing community service) in the car.
Sous: Hey Mrs. Jennifer, we haven't had Taco night in a while!
Me: Funny you say that because that's tonight's menu.  Cinco De Mayo just passed so I'm making tacos.  Is this your favorite meal we have at church?
Sous: Yes! Taco night is everyone's favorite.
Me:  Is that because everyone likes tacos?
Sous: No!  They do like tacos, but it's because of the cinnamon squares!
This totally threw me for a loop.  I would have thought, for his age group (9-14), the answer would have been spaghetti and meatballs, or pot roast or even the fried chicken!  He did say that those were in his top five, but taco night was the best.  I guess it really is all about dessert!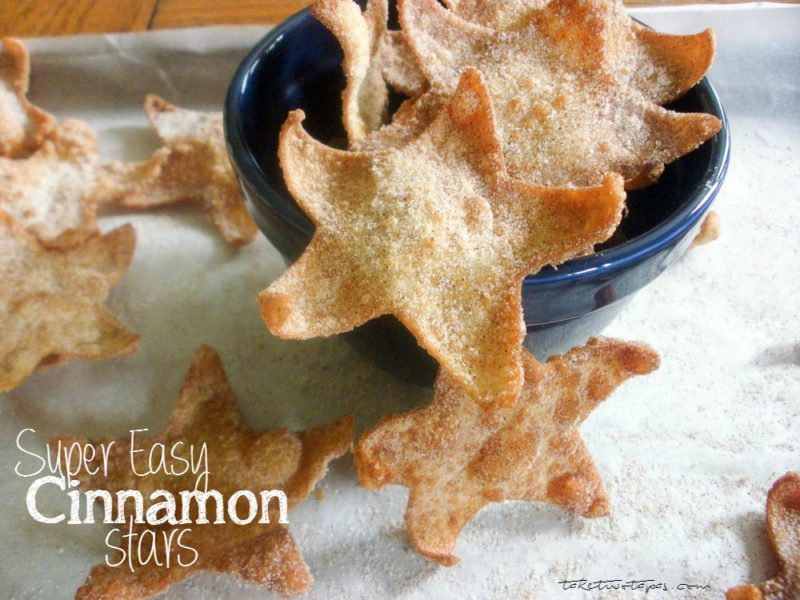 The first time I made tacos for church dinner, I was in the store trying to come up with a  dessert option.  Flan was not one of those, as it is not feasible for a 100 people.  I thought of cinnamon squares as I later passed a popular fast food chain, that serves tacos, and remembered they also sold cinnamon twisty things for dessert.  That gave me an idea!
I drove back to the store and grabbed some won ton wrappers and dessert was done.  Never thinking that everyone at church would love them as much as I do, I went as far as to figure out the Weight Watcher's point value when I was on that plan just so I could see how many I was allowed to eat that day.  I ate lettuce all day to save up as many points as I could before dinner.  This recipe is great because it is easy and only has a few ingredients, all of which I always have on hand.
Cinnamon squares are something that my mom taught me to make at a very young age.    I thought it was "exotic" to use won ton wrappers for dessert.  It is not a hard recipe and they are so addicting you can not eat just one!
Here is a collage of the steps…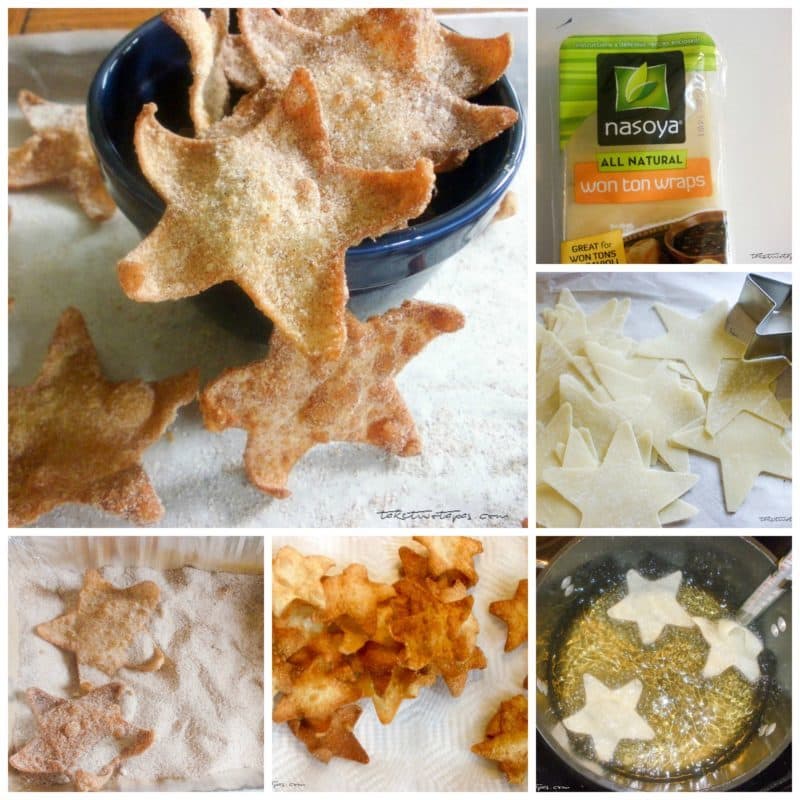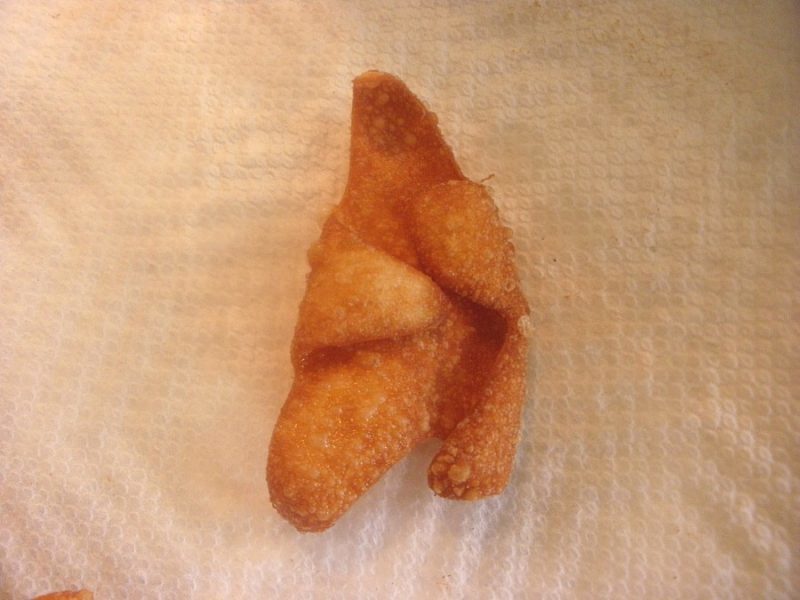 This one reminded me of Patrick from Spongebob Squarepants!
 I don't usually have time to cut all the wrappers at church since I usually make 300 at a time.  I think my diners are just as happy with the squares!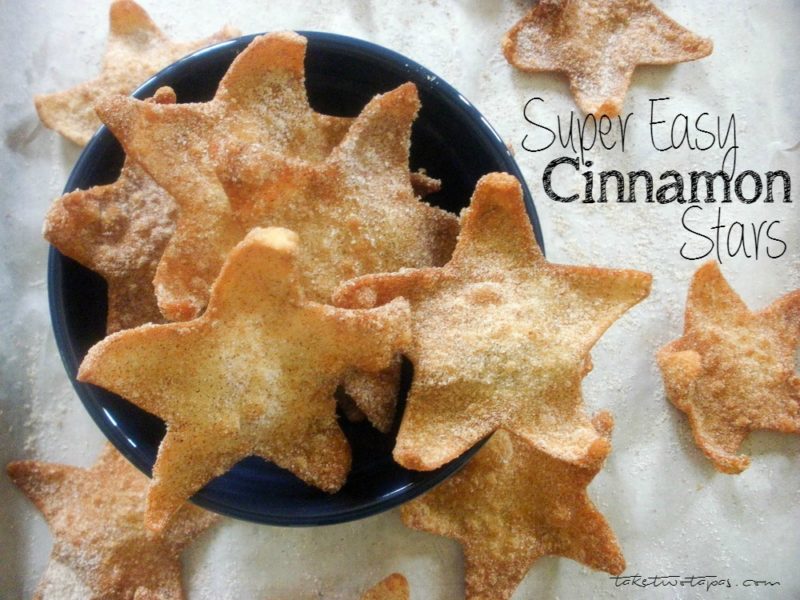 Jennifer Stewart - Take Two Tapas
Yields 48
Super Easy Cinnamon Stars
This simple and fun dessert is great for the kids, and with only 3 ingredients, they are easy to make!
10 minPrep Time
5 minCook Time
15 minTotal Time
Ingredients
1 package won ton wrappers (48 wrappers),
1 cup granulated sugar
3 tablespoons ground cinnamon
Oil for frying (I prefer peanut but you can use any type of frying oil)
Instructions
Heat about 2 inches of oil in a skillet or pot to 375F.
Cut your wrappers into any shape you want. I used stars for this recipe because that was the first one I could find.
Mix your sugar and cinnamon in a separate bowl and set aside.
Fry your wrappers. This step takes no time at all so be prepared with a sheet pan covered in paper towels to drain. This step takes about 15 seconds on one side and 5 on the other!
Drain. I can fry about 7 at a time and once I put the last one in it is usually time to flip the first one.
While still warm and a little wet, toss in the cinnamon and sugar.
You might need to replenish the sugar/cinnamon mixture depending on how heavy you coat the won tons. Sometimes I have some mixture leftover so I just save it for french toast on Sunday! Place in an airtight container until serving so you don't eat them all!
http://taketwotapas.com/cinnamon-stars/

If you like this cinnamon starring recipe, try these:
Fruit Salsa with Cinnamon Bourbon Pita Chips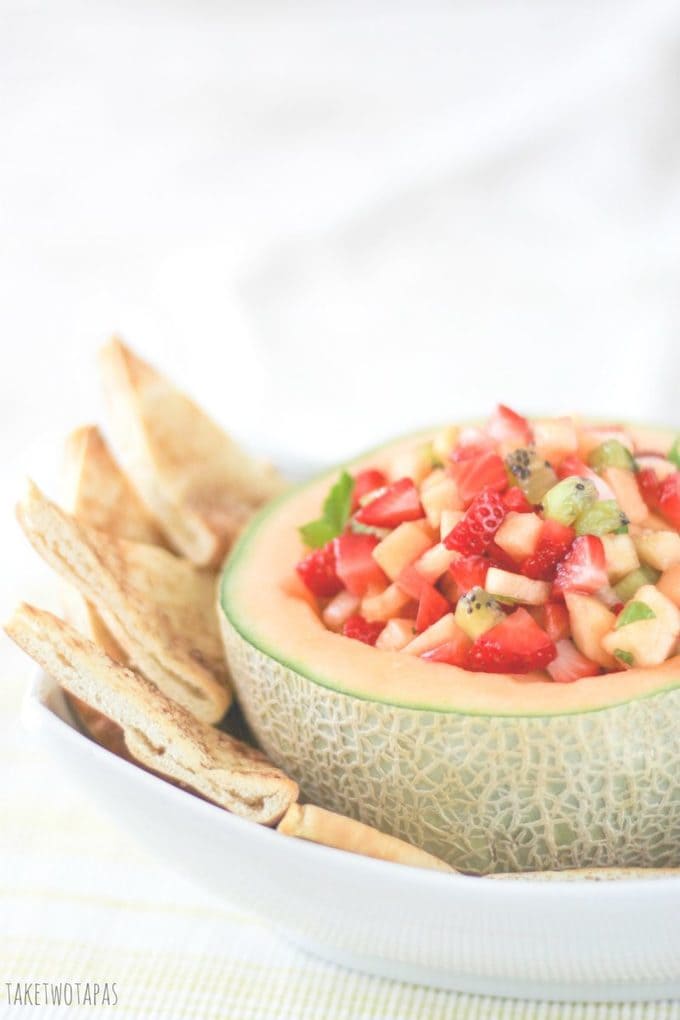 Puff Pastry Cinnamon Roll Bites