Warm and gooey cheese toast is even tastier with roasted garlic and tangy marinated artichokes.
Welcome to Freaky Friday Summer Edition 2016!  I am making Loaded Artichoke Garlic Bread from Lori and Heather who blog great recipes and posts about over at "Who Needs A Cape?"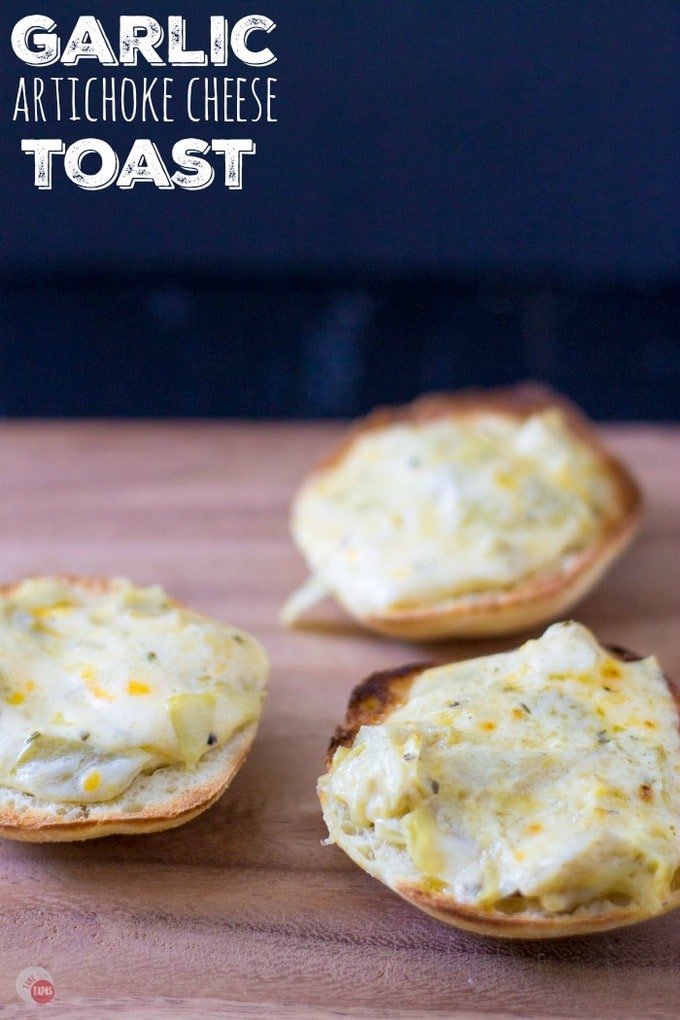 Freaky Friday is a secret blog hop.  Don't you just love secrets?  Each participant is randomly assigned another blogger in the group, we pick a recipe from their blog, and make it.  Who Needs A Cape? is a great place to look for recipes.  I feel like Heather and I are kindred spirits as she loves to watch Housewives shows on Bravo Tv and her superpower is making vodka disappear.  I am currently building up my superpowers and starting with a wine disappearing power.  After wine, I will try amaretto.
Lori is like my big sister in that she loves the beach, 80's power ballads, and has a crazy household. I am made to hang with these girls and their crazy lives!  After you meet them you will be too!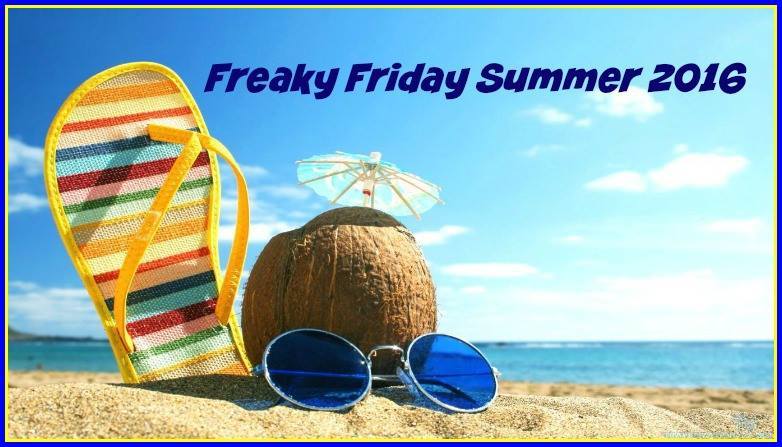 One of my favorite appetizers that they make is a Loaded Artichoke Garlic Bread.  I love a bread appetizer that is filling, full of flavor, and one that you can eat with your hands.  Appetizers should be tasty and easy to eat so I can hold a piece of bread in one hand and my drink in the other.  Especially if I am hoping to make my drink vanish!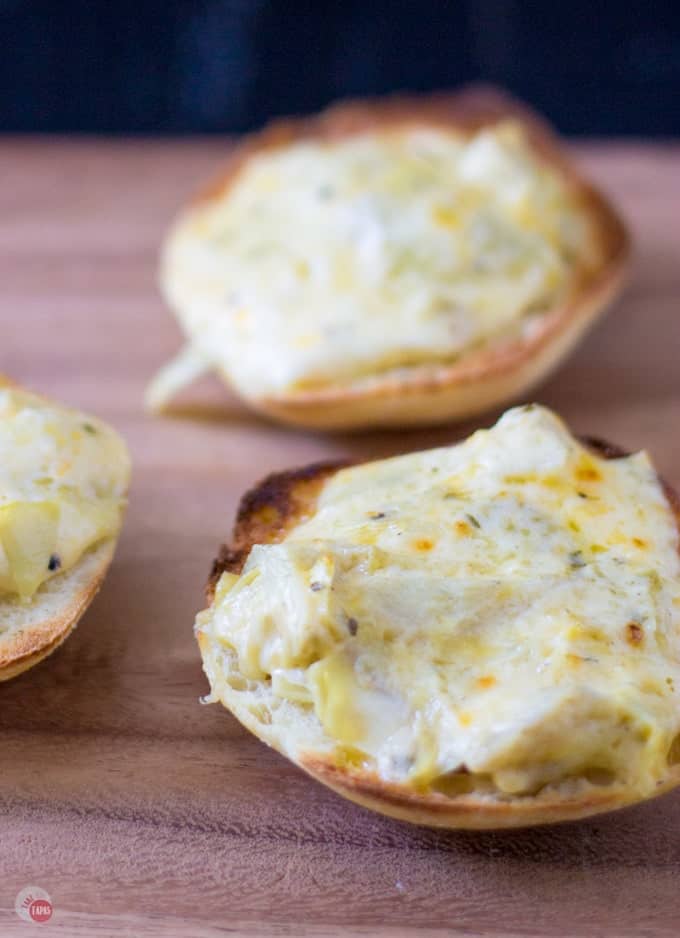 Easy-check. Tasty-check. Warm and gooey-check.  Everything on my must-have list checked off.
Must make this now!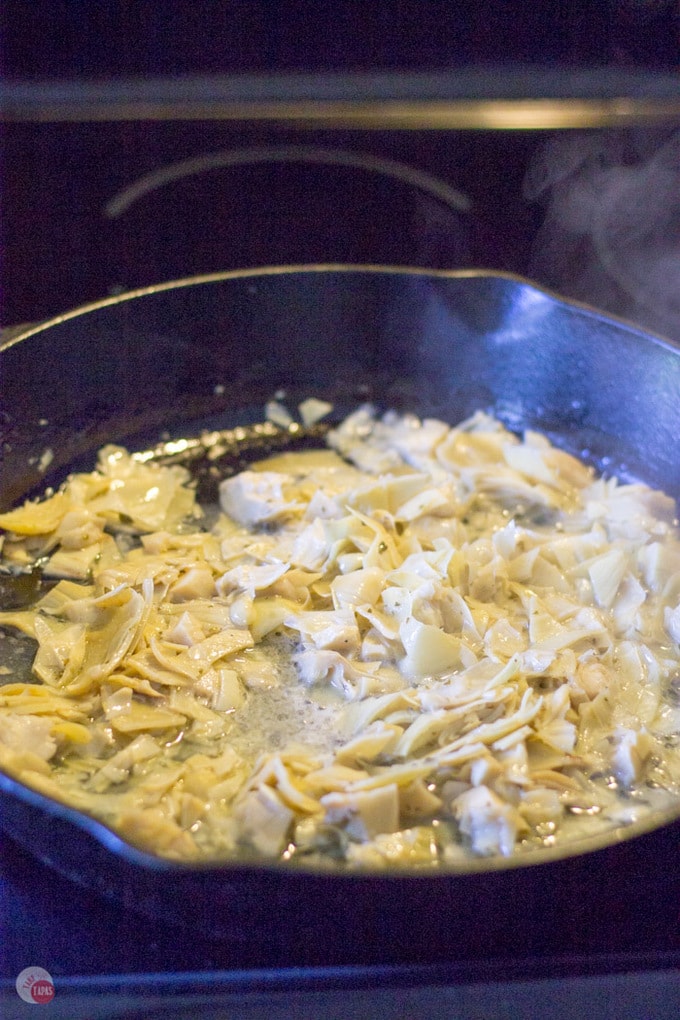 Just check out these warm and buttery marinated artichoke hearts and roasted garlic getting all cozy in the pan.  Next, we add all the cheese and the sour cream to make it even gooier!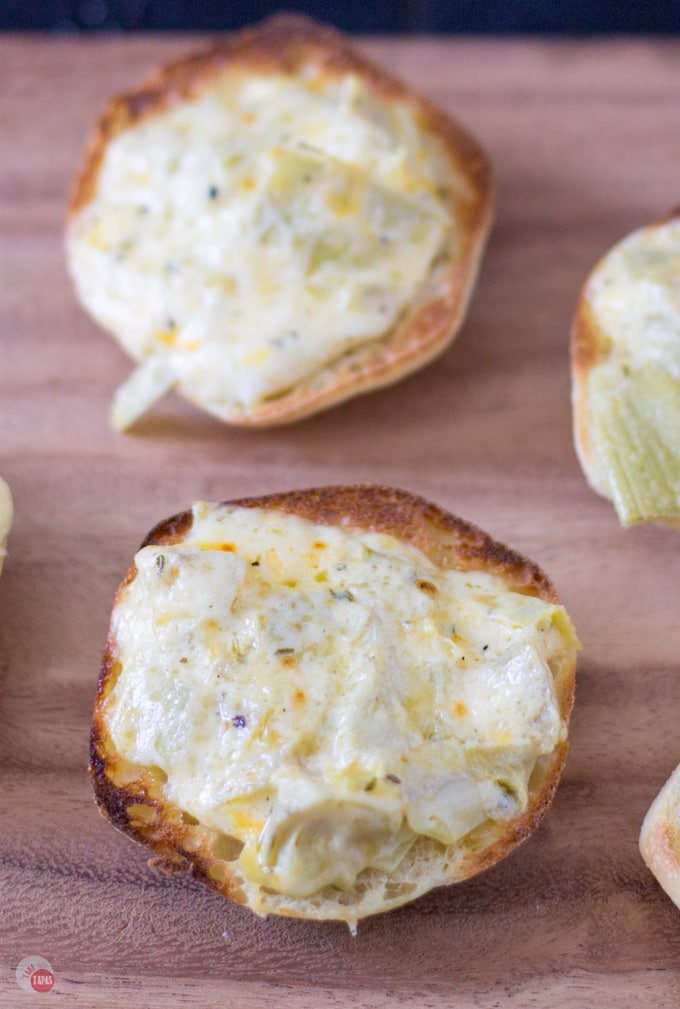 Once the garlic-cheese-artichoke mixture is complete, just slather the goodness on the toasted slider buns.  I scooped about 1 and 1/2 tablespoons onto each one.  The cheesy goodness that is the mixture was enough to generously cover all 18 slider halves.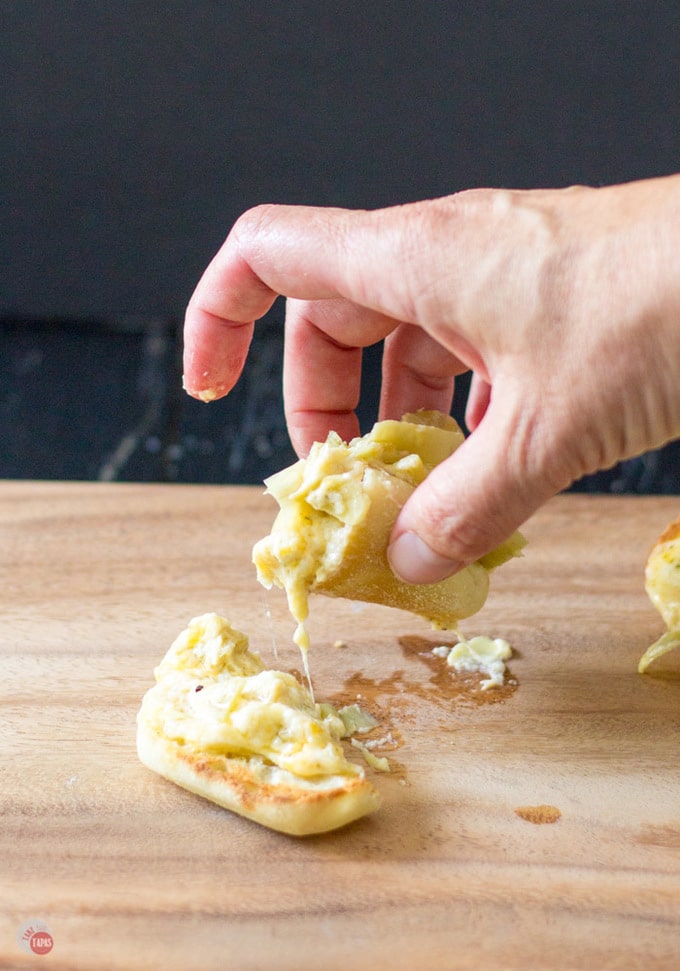 Broil it for 3 minutes or until brown and bubbly and your garlic bread is ready for eating!

Ingredients
8 slider buns
4 tablespoons butter
1 cup marinated artichoke hearts
2 tablespoons roasted garlic
1/2 cup sour cream
1/2 cup sharp cheddar cheese, shredded
1/2 cup mozzarella cheese, shredded
1/2 cup Parmesan cheese, shredded
Instructions
Preheat oven to 375F.
Slice open the buns and toast on a baking sheet for 5 minutes.
Remove from the oven and cool a little bit.
In a skillet, melt the butter over low heat.
Add the garlic and stir to combine.
Add the artichoke hearts and let cook for 3 minutes.
Add the cheeses and sour cream to the pan.
Stir together until all the cheese is melted.
Turn oven to broil.
Spread the cheese mixture equally over the toasts.
Broil for 5 minutes or until the cheese is bubbly and starts to brown a little.
Remove the toasts from the oven and cool for 2-3 minutes.
Place on a serving platter and serve with sliced meats, olive tapenade, or pickled onions.
http://taketwotapas.com/garlic-artichoke-cheese-toasts/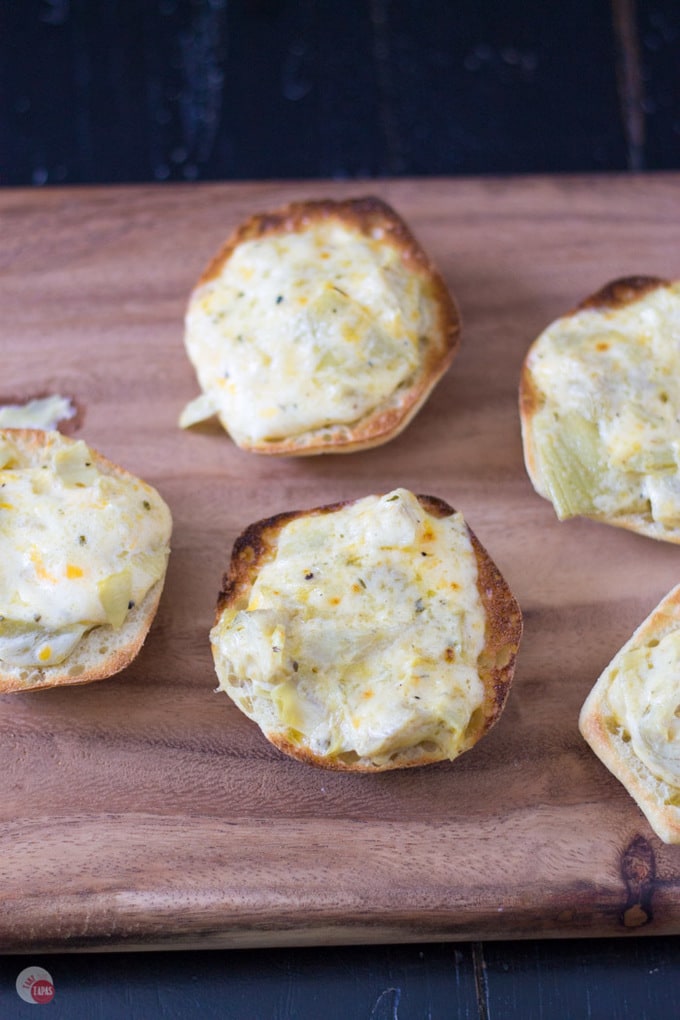 The best part of this bread is the roasted garlic. It has a sweet, nutty, and rich flavor that sneaks up on you from the background.  It is a subtle flavor that stays with you and rounds out all the other flavors.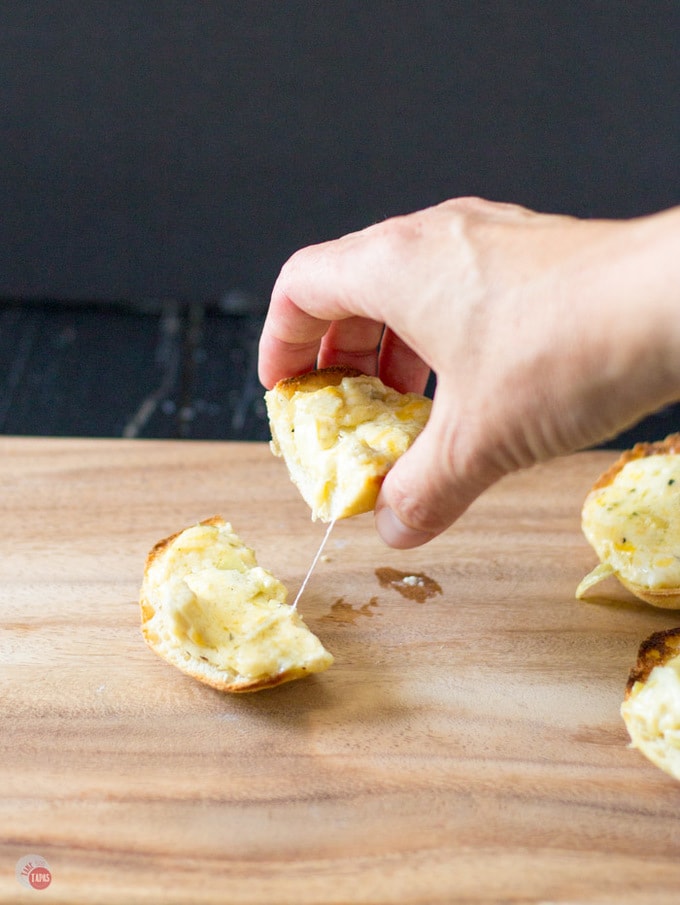 Check out that cheese pull!!  These warm and comforting garlic artichoke cheese toasts are perfect for your next party and are easy enough to eat with one hand, leaving your other hand free for other things!  Check out these other great appetizers from Lori and Heather over at Who Needs A Cape that will make you the star of the next get together.
Red, White and Blue bites for your 4th of July party and Amazing Flatbread that has apples, caramelized onions, and blue cheese!
There are quite a few other bloggers hopping today so make sure you check out all the other blogs below!
Loading InLinkz ...