Who doesn't love margaritas?!?  What if you could have one of your favorite cocktails in a dip?  Now you can!  This bright and creamy margarita dip is full of the flavors of lime and tequila and the perfect amount of salt when served on top of a salted pretzel!
I used to think that tequila and I were friends.  Not anymore.  After one night that I can't fully recall, tequila left me with a fuzzy memory, a raging headache, and a mysterious bruise on my forehead.  Since that night, I can't really handle tequila.  Sipping or shots.  What am I to do when I can't handle a much-beloved spirit?  Make it into a dip where I can still enjoy the taste without the fallout!  How does Margarita dip sound?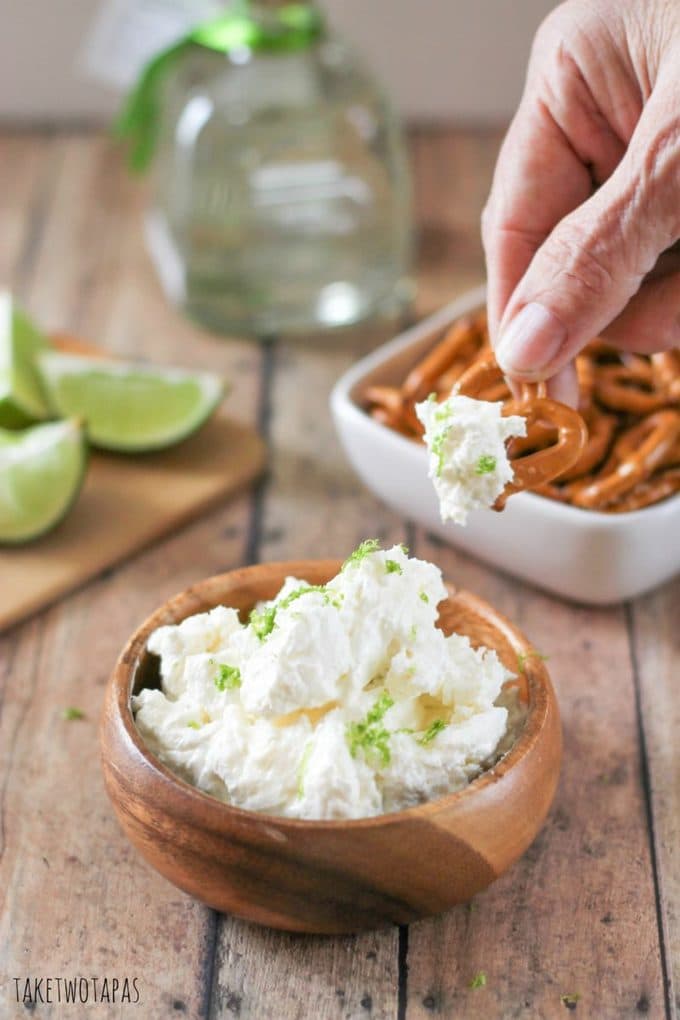 This creamy mixture starts off with butter and cream cheese.  You know, something light!  Just remember that calories shared with friends don't really count.  Feel free to eat the whole bowl!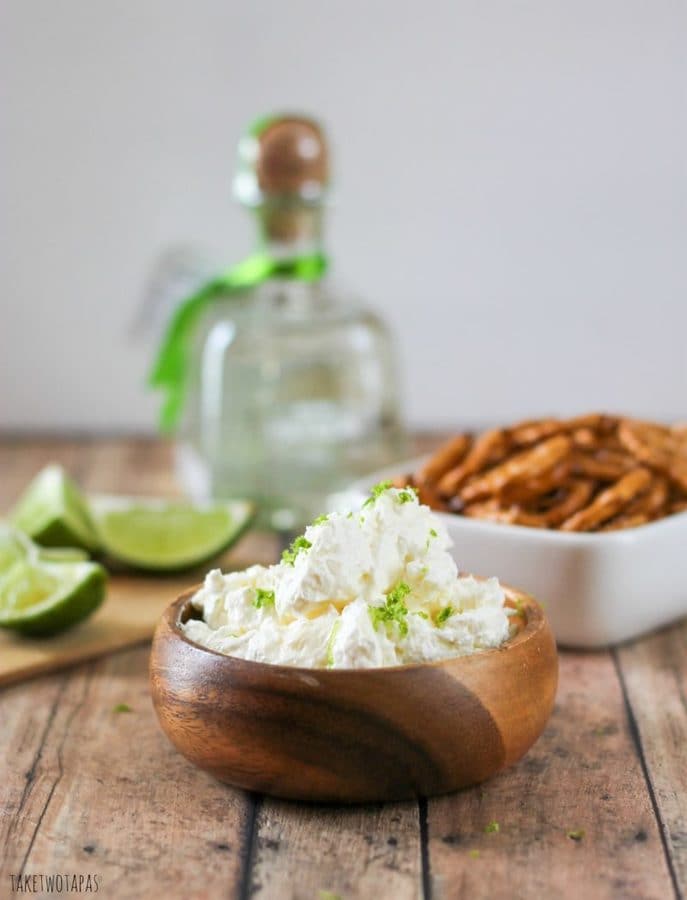 Once you have mixed those two wonderful ingredients, add your liquor of choice.  You can use tequila like a traditional margarita, or you can use lime liqueur.  I found this wonderful spirit next to the tequila in the store.  It has a smooth finish and tastes like a bright lime!  Don't forget the triple sec or it wouldn't be a true margarita, and then I would be lying if I called it margarita dip.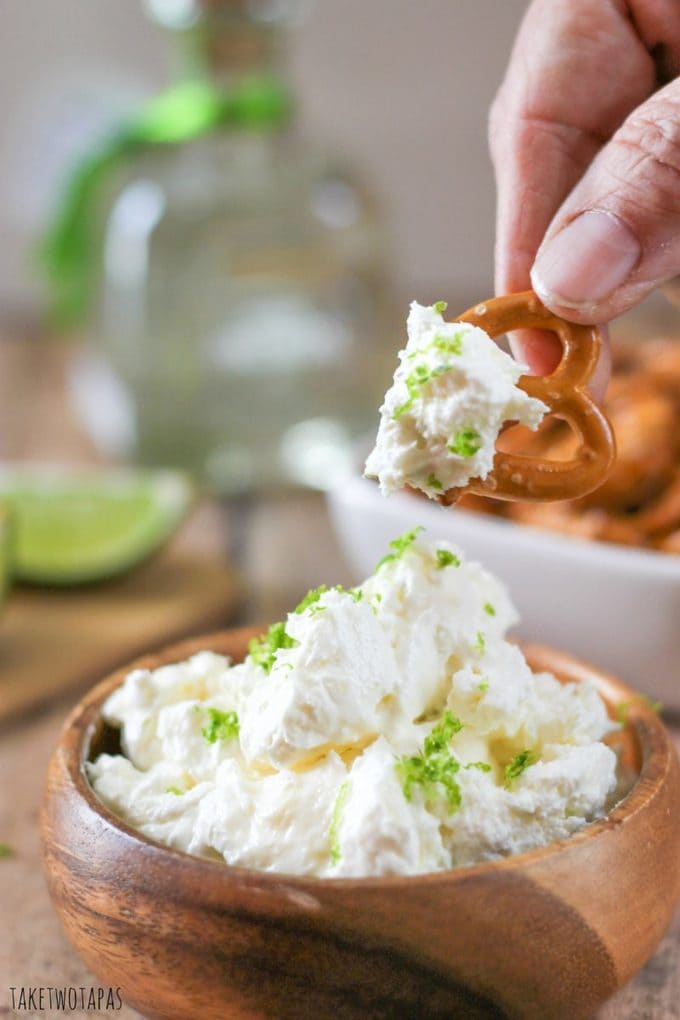 After adding in the spirits, you need to balance out the dip with some sweetness!  Mix in your powdered sugar and fold in your whipped topping to smooth it all out.  Now you are ready to eat.  Be sure to serve this with some salted pretzels for the full flavor profile.  I like the twists for the margarita dip so I can get as much on the pretzel at one time.  The sticks just don't do it justice!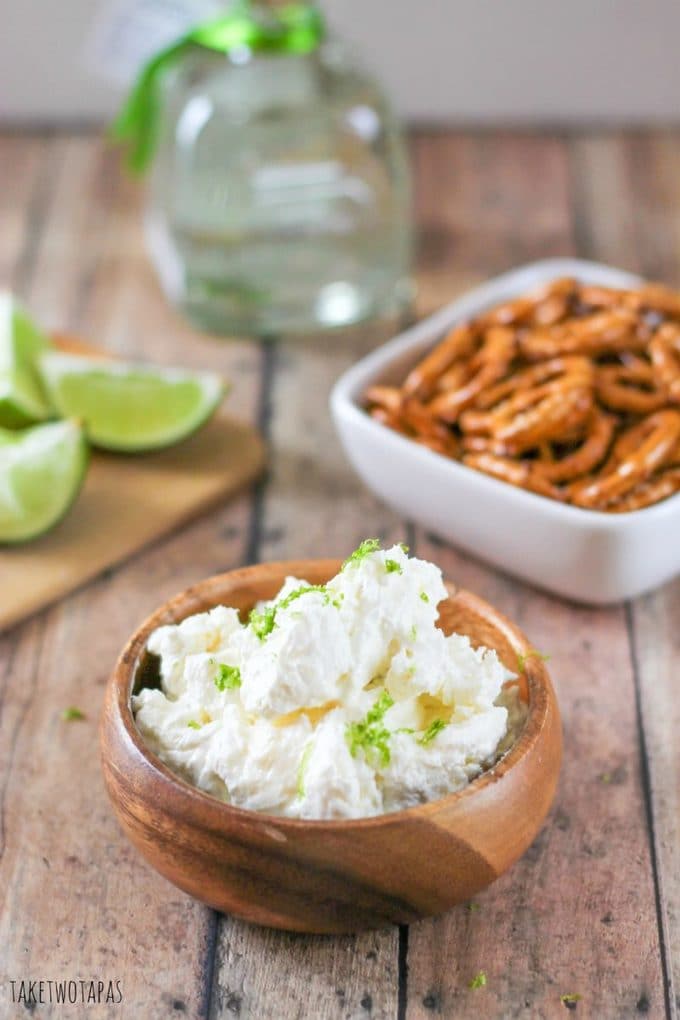 Ingredients
8 ounces cream cheese, softened
8 ounces whipped topping
8 tablespoons butter, room temperature
1/4 cup tequila or lime liqueur
1 tablespoon triple sec
1 cup powdered sugar
Instructions
Cream together the butter and cream cheese.
Add in the triple sec and spirit of your choice (tequila/lime liqueur) and stir to combine.
Add the powdered sugar.
When all the above is combined, fold in the whipped topping.
Place in serving dish or store in the refrigerator until ready to use.
Serve with salted pretzels.
http://taketwotapas.com/margarita-dip/
Margarita Dip is perfect for your next cocktail party too!

If you like this dip, you'll love this one too!