Crispy oven-baked chicken wings marinated in homemade Southwest Seasoning Mix are a great addition to any party!  Serve with an Avocado Salsa Verde sauce to cool them down!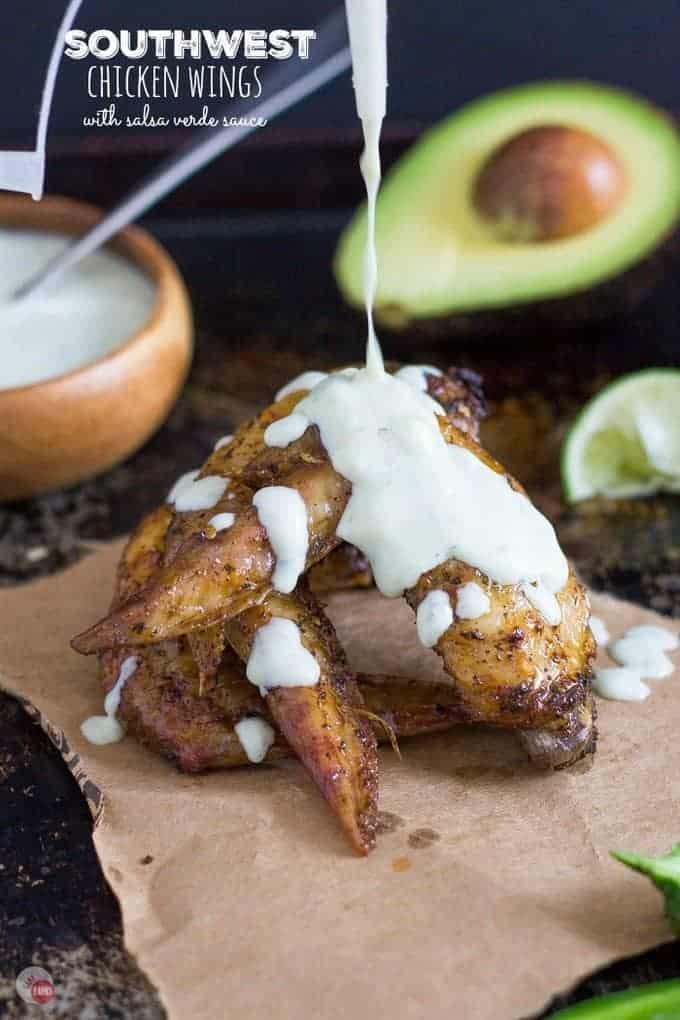 Forget boring chicken wings, try these Southwest Seasoned Chicken Wings!  Southwest seasoning is like the big brother of taco seasoning. Kicked up a bit some more cayenne than usual, these wings will heat you up and the Avocado Salsa Verde Sauce will cool you down and prepare you for the next one!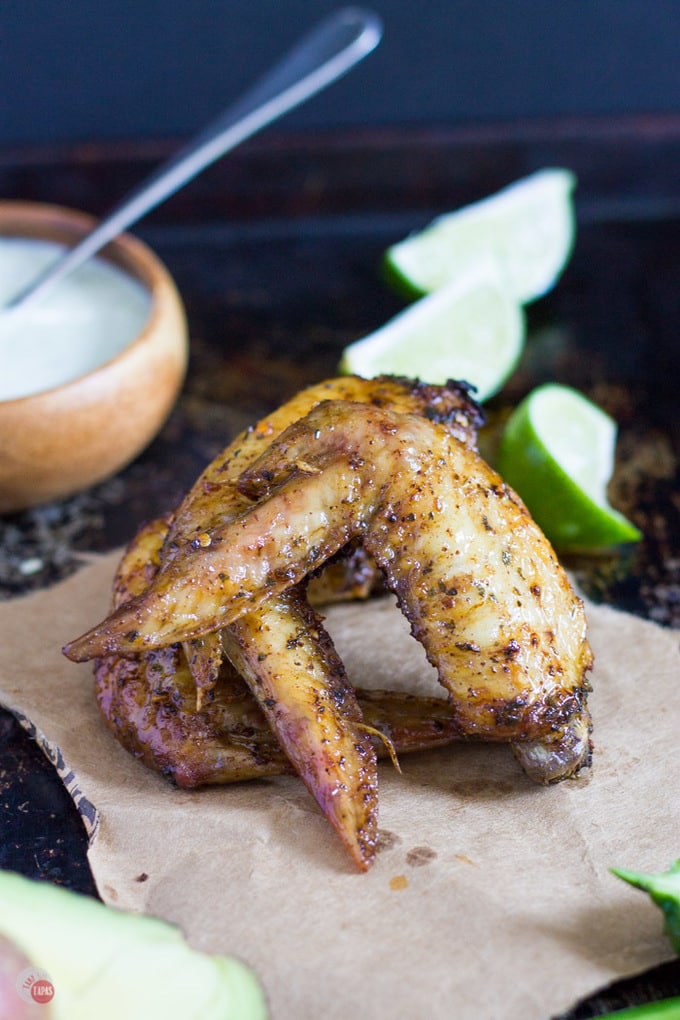 Earlier this year, I released a Make Your Own Dip eBook with 10 dry dip mixes in it.  These were seasoning mixes that you can add to sour cream, cream cheese, yogurt, or a combination of these three and make a unique dip for a party!
A secret to this book is that you use these mixes for marinades too!  Here is a prime example of the versatility of these seasoning mixes.  I used the leftover Southwest Seasoning Mix I had in my pantry for these wings, on a whim, and fell in love with it!  I might even try it on steak next.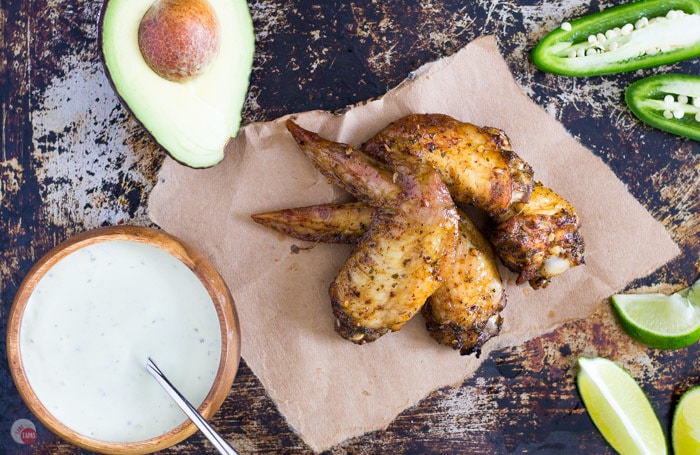 If you haven't had a chance to get this great eBook, click on the picture of the book and it will take you to it!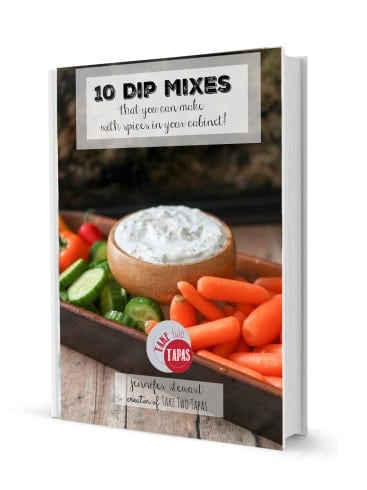 There are 10 tasty seasoning mixes to make and a few bulk recipes for my favorites like the Cajun and Ranch ones!
With all the heat from the wings, you have to have a way to cool down.  Forget the blue cheese and ranch!  Just throw it out the window!  You will never go back after making this avocado salsa verde sauce.  It is also a versatile sauce that you can certainly use for chicken, shrimp, steak, and wings.  Your kids might also use it as their new dip for their chicken nuggets!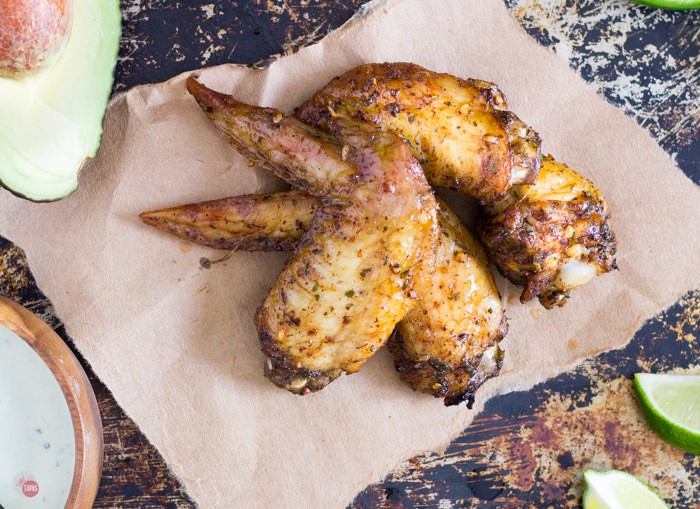 Grab a ripe avocado, some salsa verde (I keep a jar of the organic kind in the fridge at all times to add to my eggs, chicken, and even my guacamole if I run out of chilies), and some sour cream.  This sauce comes together quickly and is so delicious!
If you want a recipe for a homemade salsa verde, check out this fabulous recipe from my friend Dini over at The Flavor Bender.  It is so yummy and I was sad when I didn't have any on hand, or all the ingredients to make it when I made this sauce the first time.  I have since used her recipe for this sauce but don't feel bad if you grab a jar.  I love a shortcut just like everyone else!  We are all so busy these days!
These wings are perfect for your next party, or Mexican get-together, or just late-night snacking by yourself!  I have been known to get hungry late and eat these in my PJs standing in front of the fridge.  No judging from me if you want to do the same:)!

Jennifer Stewart - Take Two Tapas
Yields 1
Southwest Spiced Chicken Wings
Crispy oven-baked chicken wings marinated in homemade Southwest Seasoning Mix are a great addition to any party! Serve with an Avocado Salsa Verde sauce to cool them down!
10 minPrep Time
45 minCook Time
55 minTotal Time
Ingredients
Chicken Wings:
1 pound chicken wings
2 tablespoons olive oil
Homemade Southwest Seasoning Mix (recipe below)
Avocado Salsa Verde Sauce:
1 avocado, ripe
3 tablespoons prepared salsa verde
1 cup sour cream
Southwest Seasoning Mix:
1 1/2 teaspoons Dried Parsley
1 1/2 teaspoons Dried Onion
1 1/2 teaspoons Chili Powder
1/2 teaspoons Cumin
1/4 teaspoon Salt
1/4 teaspoon Crushed Red Pepper
1/2 teaspoon Dried Cilantro
1/4 teaspoon Cayenne Pepper
Instructions
Mix all the ingredients together for the Southwest Seasoning Mix.
Prepare the wings by combining wings, olive oil, and homemade Southwest Seasoning Mix in a zip-top bag or storage container.
Let marinate for at least an hour or overnight.
When ready to cook the wings, preheat oven to 400F.
Spread the wings on a baking sheet, covered with foil and a cooling grate.
Bake for 45-50 minutes or until cooked to your desired level of doneness.
While the wings are cooking, make the avocado salsa verde sauce.
Mash the ripe avocado with the salsa verde until mashed thoroughly.
Add the sour cream and mix until combined.
If needed add salt and pepper.
Remove wings from the oven and serve warm with the avocado salsa verde sauce.
http://taketwotapas.com/southwest-spiced-chicken-wings/
If you like these wings, check out my other ones!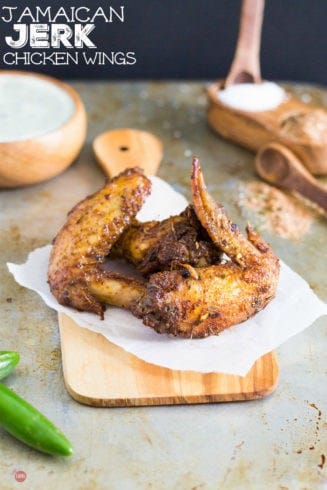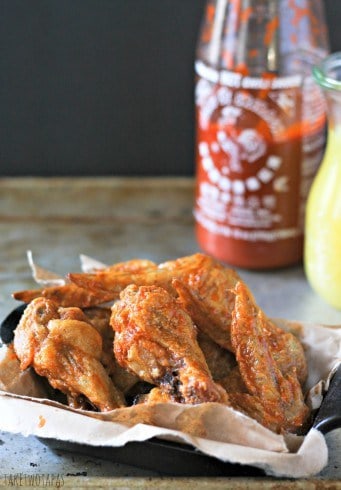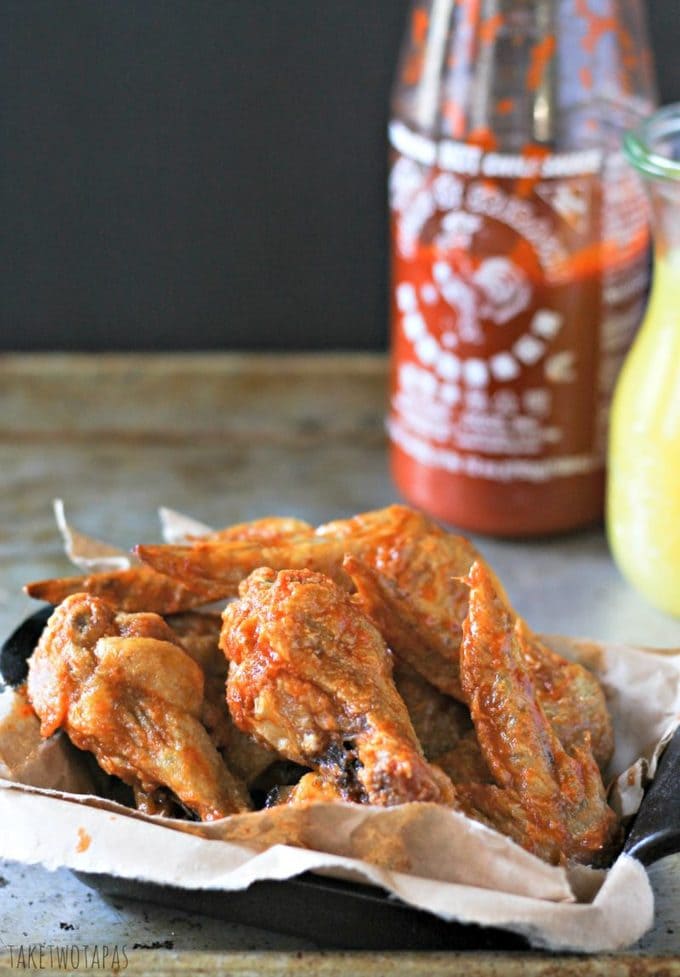 Sriracha Pineapple Chicken Wings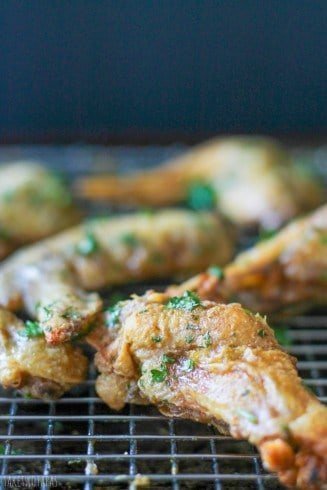 Crispy Green Herb Chicken Wings